Gulmarg, known as Gulmarg in Kashmir, is a town, hill station, popular skiing destination, and notified area committee in the Baramulla district of Jammu and Kashmir, India. It is located at a distance of 31 km from Baramulla and 49 km from Srinagar.
Check Best Things to do in Gulmarg
1. Gulmarg Gondola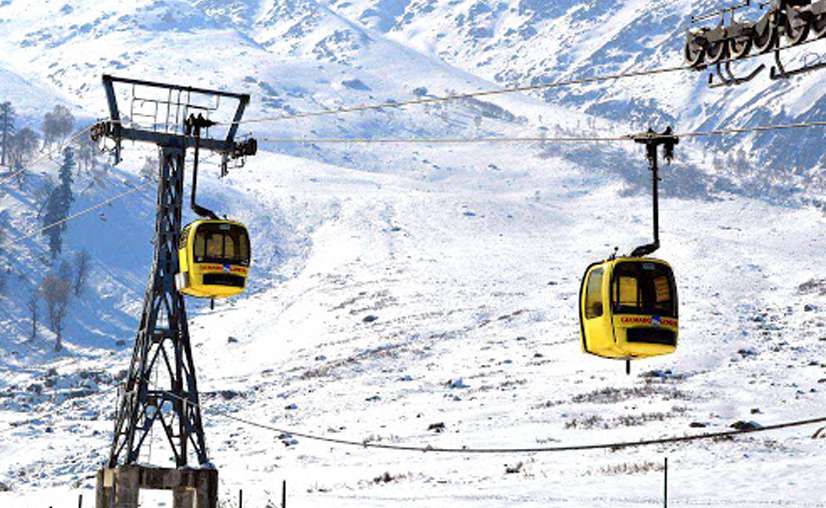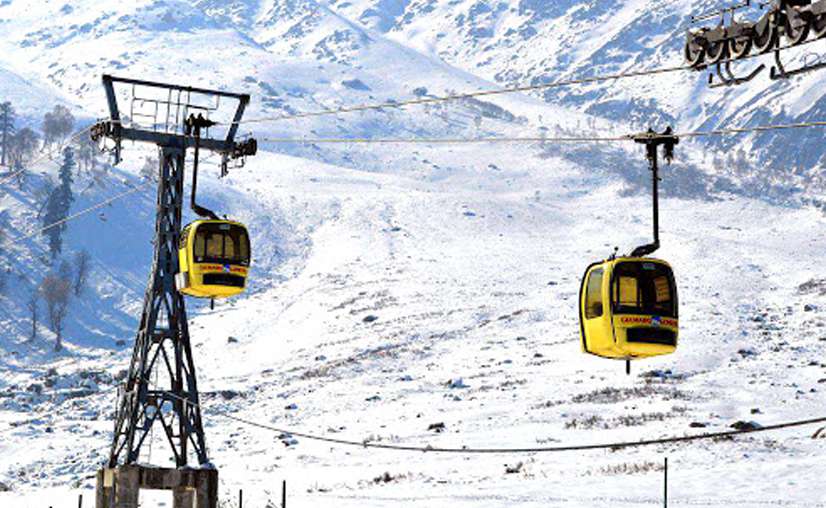 Gulmarg Gondola is the second longest and second highest cable car in the world and the prime attraction Gulmarg is known for. Divided into two phases, it ferries almost 600 people per hour to and from the Apharwat Mountain, which is where most of the winter sports happen in Gulmarg.
Phase 1 of Gulmarg Gondola ferries people from Gulmarg Resort to Kongdoori Station (middle station). It starts at 2,990 m and has a vertical rise of 400 m. Every hour it ferries 1500 people to the height of 3100 m from where several easy runs for skiing are accessible. Phase 2 of Gulmarg Gondola connects Kongdoori Mountain to Apharwat Peak. The cable car ascends 1,330 vertical metres to a height of nearly 4,000m and carries 600 people per hour. After arriving at the station, you can further have a 30 minutes trek to reach the mountaintop. From here the LOC or the Line of Control is visible.

The Gulmarg Gondola affords a magnificent view of Nanda Devi, LOC, and Pir Panjal range. Apart from cherishing the beauty of Himalayan ranges, tourists can enjoy other activities like horse riding and snow skiing.
2. Drung Waterfall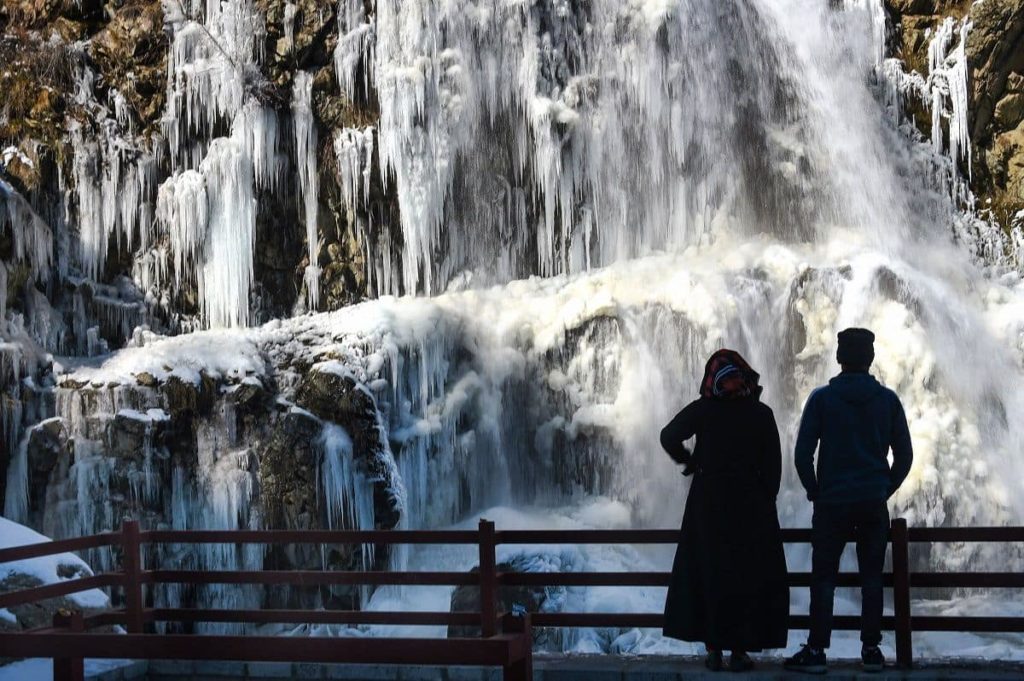 The Drung Waterfall is an extremely popular tourist attraction located in the Tangmarg tehsil of Gulmarg, Baramulla. A cascading waterfall set amidst majestic mountains, it freezes completely during winter due to the extremely low temperature. This frozen waterfall is a must-visit in the area.
The cascading waterfall mixes with the water that originates from the magnificent glaciers and makes for an unforgettable sight. During the summers, one can spend some quiet time here while enjoying views of the waterfall, lakes, streams, surrounding greenery as well as explore the caves. The area is even more breathtaking during the wintertime when everything is frozen; the waterfall freezes as it comes down, forming icicles. Even the lake and streams freeze, though they remain accessible, and one can have some fun in the ice-cold waters if brave enough! There are stalls around that serve tea and snacks for people to have while they take in the magnificent scenes. There is also a small temple in the vicinity.
How to Reach Drung Waterfall 
he Drung Waterfall is approximately 50 km away from the capital city of Srinagar and can be reached via car/taxi is about 1 hour 30 minutes. 
3. Children's Park, Gulmarg
Children's Park in Gulmarg sprawls over acres of land amidst breathtaking conifers, floating clouds and spectacular hills. With a vast number and variety of rides ranging from a toy train to car rides, buggy rides, and several slides and swings; the garden is sure to please your kids. While the young ones are busy enjoying the rides and the swings, you can hire a pony and take a little stroll around.
Weather : 16° C
Timings : 9:00 AM – 6:00 PM
Time Required : 1 – 2 hrs
Entry Fee : INR 20
4. Strawberry Valley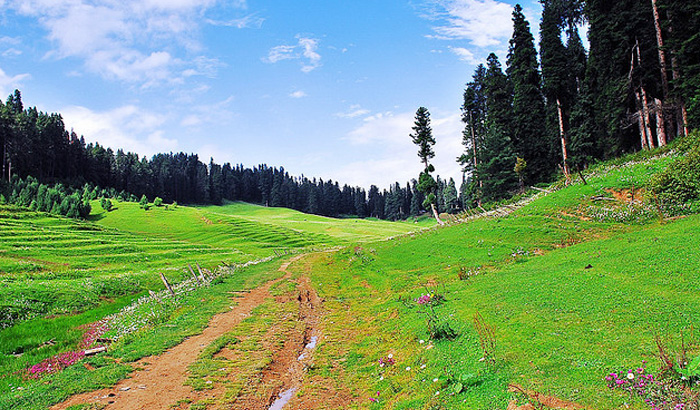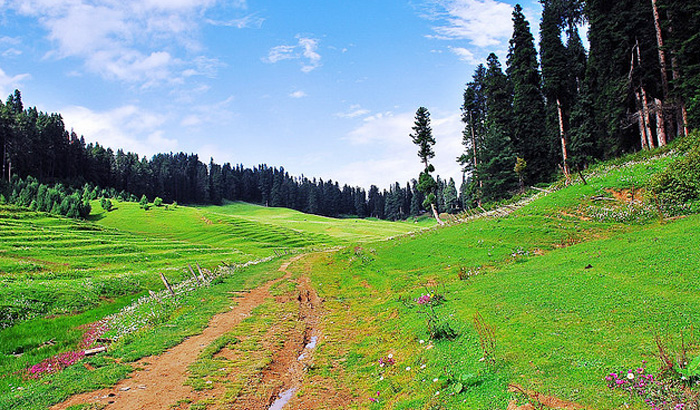 A hidden attraction in Gulmarg is Strawberry Valley, unexploited by tourism and still holding its nascent beauty and charm. The emerald meadows with budding red strawberries look like a picture straight out from Garden of Eden. Covered in pristine elegance, with clear blue skies overhead and verdant green meads all along, a visit to Strawberry Valley is an enthralling experience.
Summer season is the busiest time of the year as the strawberries are ripe and ready to be harvested. Tourists are allowed to take a walk amidst rows of scarlet and verdure plantations. You can simply stroll along and awe at the beauty of nature or just take a basket of food and enjoy a wonderful picnic with your loved ones. The fields also boast of having a Bollywood connection in the yesteryears. Several movies have been shot at the destination owing to the ataraxy, vibrancy and overall charisma of the place.
Best Time To Visit Strawberry Valley 
Summer Season (March till July) is the ideal time to visit Strawberry Valley as the strawberries are ripe and ready to be harvested. Besides portraying an enthralling picture, you can even taste some juice berries and perhaps carry some home with you.
How To Reach Strawberry Valley 
You can hike to the valley if you are putting up somewhere close by or maybe take a horse back ride. Alternatively, you can hire a private cab to drop you at the destination.
5. Seven Springs, Gulmarg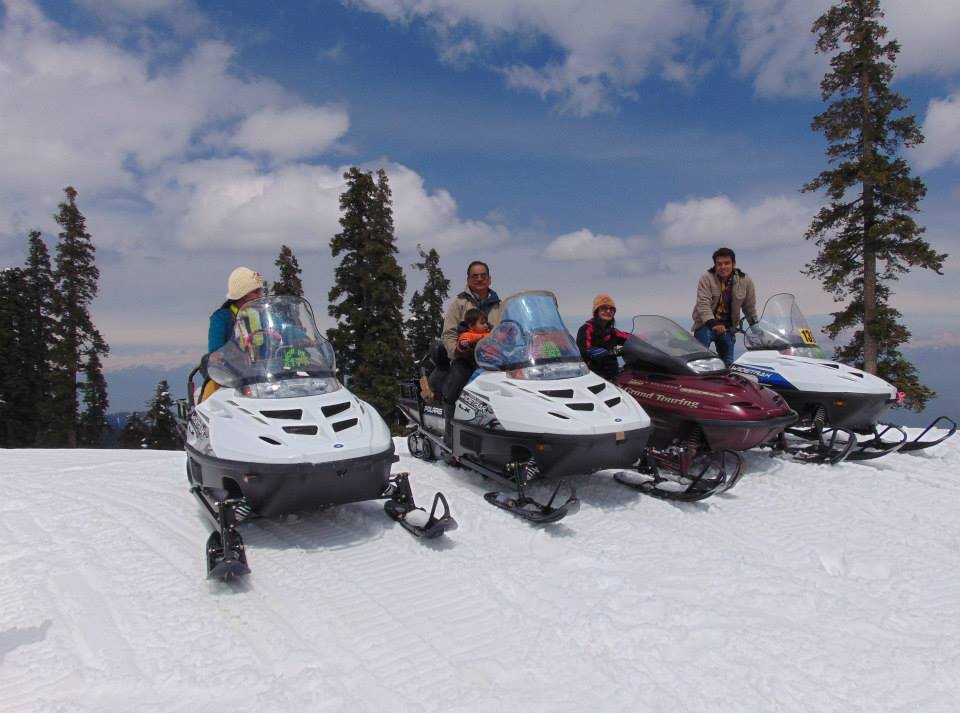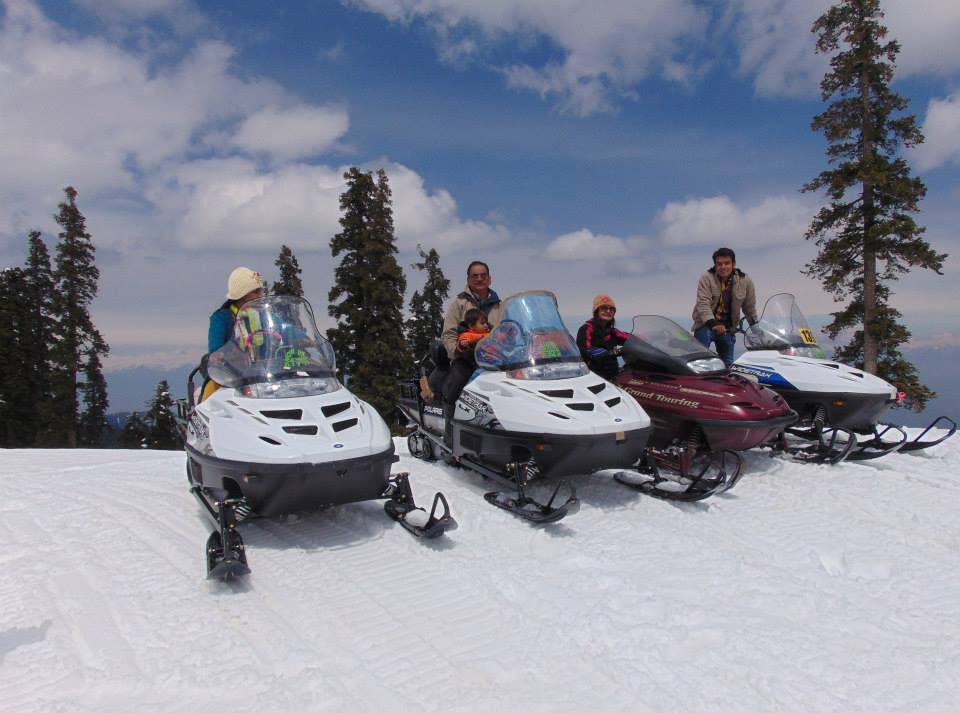 Seven Springs is the majestic stream, known for its seven different outlets of water. Located on a hillock near Kongdori, the springs offer a spectacular view of the valley of Gulmarg and Srinagar. A gondola cable ride from the base of the Apharwat mountain can take you to this enchanting place with sweeping vistas of snow-capped mountains and the blooming vale below.
Weather : 16° C
Timings : 24 hrs
Time Required : 1 – 2 hrs
Entry Fee : No Entry Fee
6. Maharani Temple, Gulmarg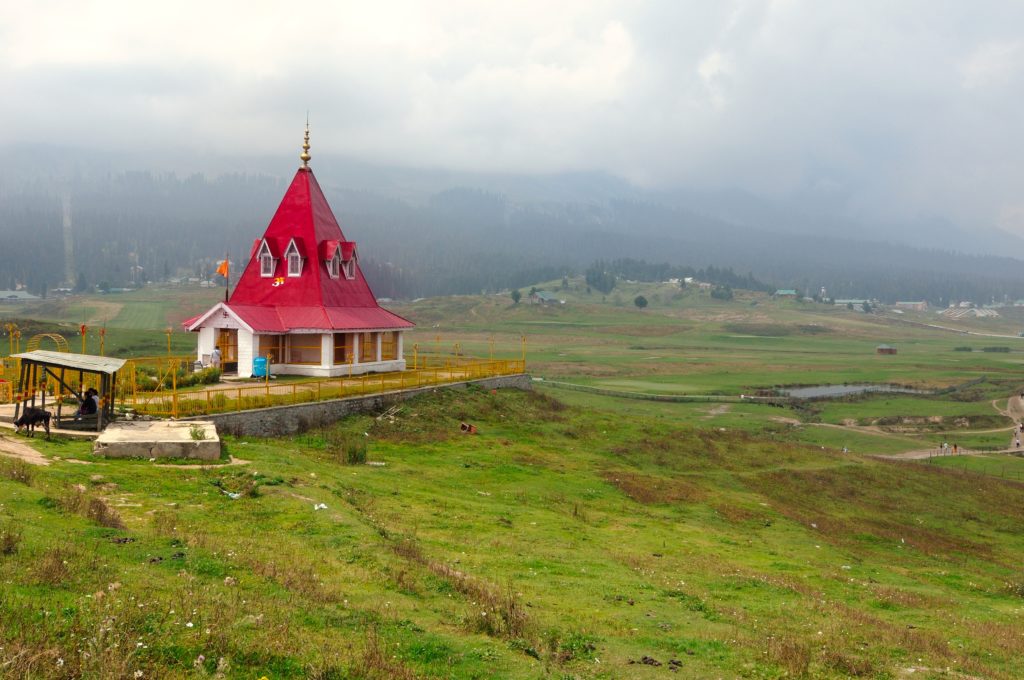 The Maharani Temple of Gulmarg is dedicated to Lord Shiva and Goddess Parvati and lies on a small hillock which is visible from all corners of the town. It looks striking with its red roof against the green meadows. Also known as the Rani Temple or Mohineshwar Shivalaya, it is popular as the spot where the famous Bollywood song "Jai Jai Shiv Shankar" was shot.
The Maharani Temple was built by Mohini Bai Sisodhia, wife of Maharaja Hari Singh in 1915. This temple belongs to the Dogra Kings of Jammu & Kashmir. Situated in the middle of Gulmarg, the Maharani temple is an example of religions intertwined with a Muslim priest performing rituals in the temple.
Weather : 16° C
Time Required : 1-2 hours
Timings : 6:00 AM – 9:00 PM
7. Apharwat Peak, Gulmarg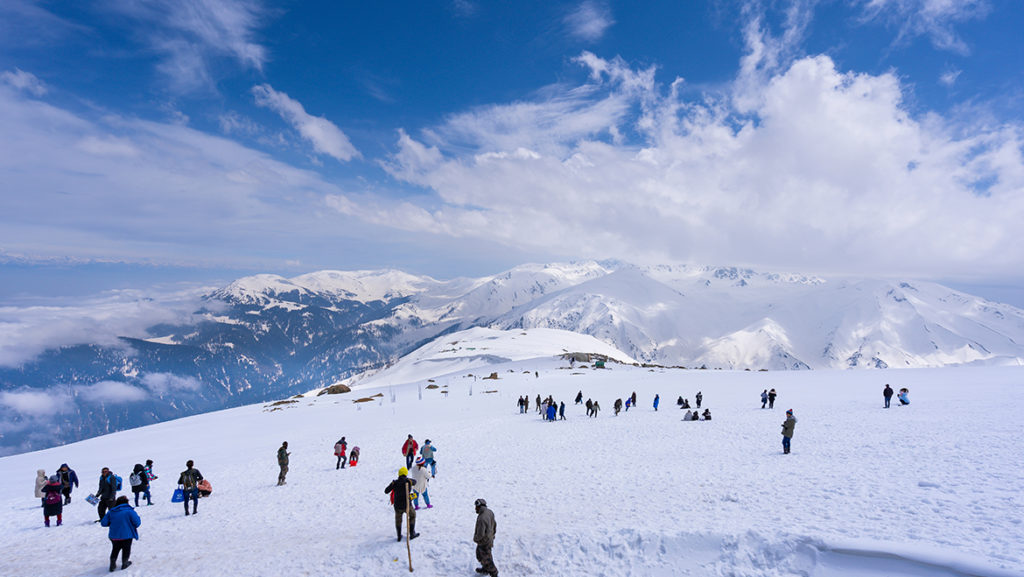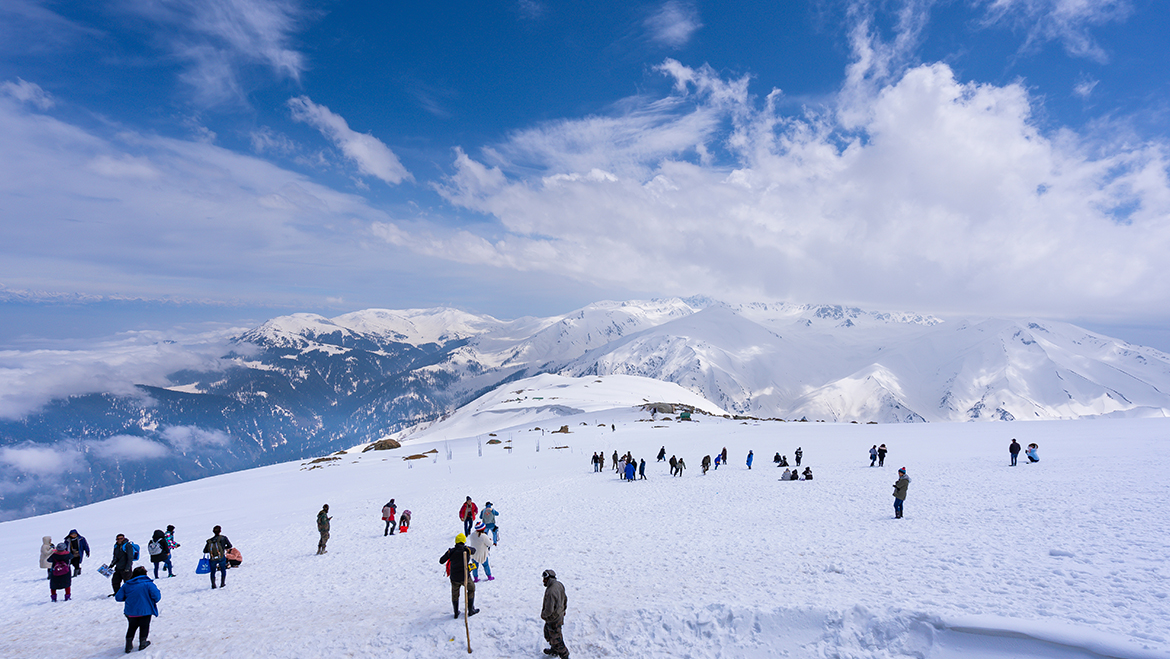 Situated at a height of 4200 metres above the mean sea level, Apharwat Peak in Gulmarg is one of the most breathtaking places. Remotely positioned near LOC with Pakistan, the region receives heavy rainfall and is covered in snow for most of the year. Apharwat Peak is where winter sports in Gulmarg takes place.
Imbued with snow-clad mountains and surrounded by pearly white meadows, the area is a perfect honeymoon destination and the most picturesque tourist spot in Srinagar.
Skiing at Apharwat Peak 
The Apharwat Peak provides ample opportunities for skiing and adventure sports. For the weak at heart, you can just carry along a sleigh and slide on a smooth piece of land to get the feel of the sport. For all the adventure junkies, Apharwat Peak has clearly demarcated areas for beginner and expert level skiing.
The activity arena is open from 9:00 AM – 7:00 PM and the ski charges are extra. Visit the Ningle Nallah origination from the extreme peak of Apharwat Peak and slide down with it to the point where it joins Jhelum. The misty mountain air and the whizzing hills will surely be a memorable experience for you.
Gondola Ride to Apharwat Peak 
Gulmarg has a provision of cable car ride to Apharwat Peak. It is divided into Phase 1 (Gulmarg to Kangdoor) and Phase 2 (Kangdoor to Apharwat) from the base of the hillock. Phase 2 can only be covered depending on the weather conditions. You will need to rent overcoat and boots from the base itself to prevent yourself from the blazing winds and snow upwards. The charges are approx INR 100 for a single set of boots and overcoat. However, depending on the season of tourism, the shopkeeping might dope you into overpaying them. Keep track of the price and bargain hard. It is recommended to hire a guide at the base which can prove helpful and convenient for your journey to the mountain peak. It is preferable to book gondola ride tickets online but in off- season you can easily get them in person at the ticket counter.
Board the yellow coloured gondola from the base to Phase 1. If you reach Phase 1 later than noon, we recommend you not to stop to enjoy the scenery as Phase 2 gets closed early. Hurry to Phase 2 and try and reach there before 2:00 PM. Post 3:00 PM, grey clouds surround the peak, the weather conditions might get worse and you can have dearth of oxygen. Needless to mention, the view from the top is breathtaking. The gondola ride with the sweeping mountain peaks and the picturesque meads below, will be a once in a lifetime experience for you.
Things to do Around Apharwat Peak 
1. Enjoy horse riding at the base site. You will find ample ponies and their caretakers strolling around. For a very minimal amount you can enjoy riding a pony on your own.
2. Try sledge riding at the top. For around INR 500 you can get pulled in a human sledge and enjoy the chilly winds against your face.
3. If you are an adventure junkie, go for heli-skiing. The process lets you drop from the helicopter to any mountain peak and you can choose your own method of descent.
4. Visit the Alpathar Lake at the bottom of the Apharwat peak and soak in the beauty of nature. Its waters remain frozen till late June; you can also water skate here.
5. The mountain arena provides plenty of trekking opportunities both for novices and masters.
How to Reach Apharwat Peak 
You can either drive down or hire a private cab or an auto rickshaw (depending on the distance) to the base of Apharwat Peak. If you are staying fairly close to the area, you can also ride down in a horse ( depending on the availability). From the base of the mountain, you can take a gondola ride to the summit above.
8. St Mary's Church, Gulmarg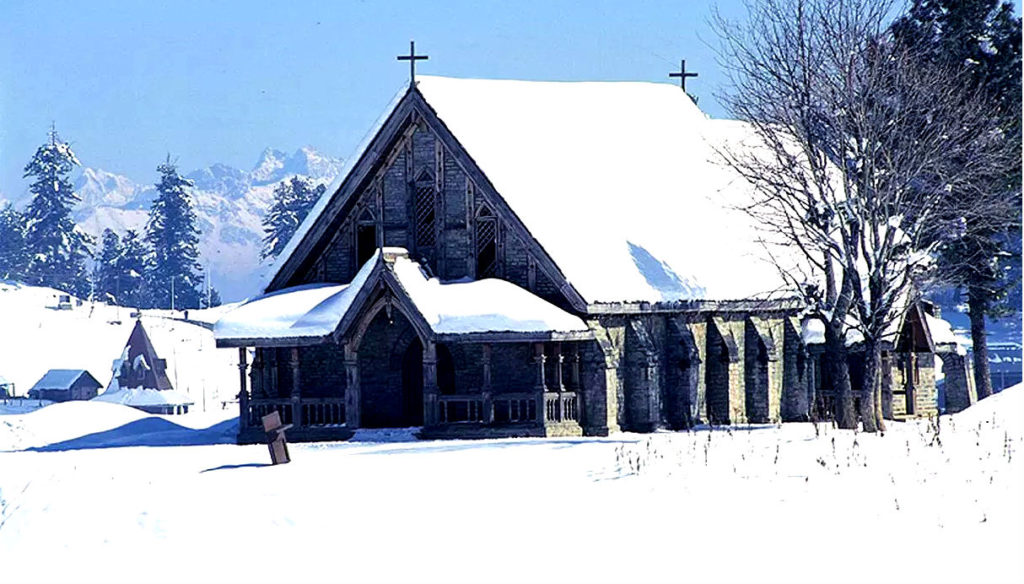 Standing tall, even after a 100 odd years, is this Victorian architectural wonder of the Saint Mary's Church located near the Golf Course in Gulmarg. This might well be your messiah to experiencing the ancient architectural wonders that our country is the most renowned for. The church is accessible only by trekking and is known for the stained glass artwork.
More like a tiny countryside chapel in appearance, St Mary's church is made of grey stone walls. It looks the most scintillating during the winter season especially when it is surrounded by snow.
9. Tangmarg, Gulmarg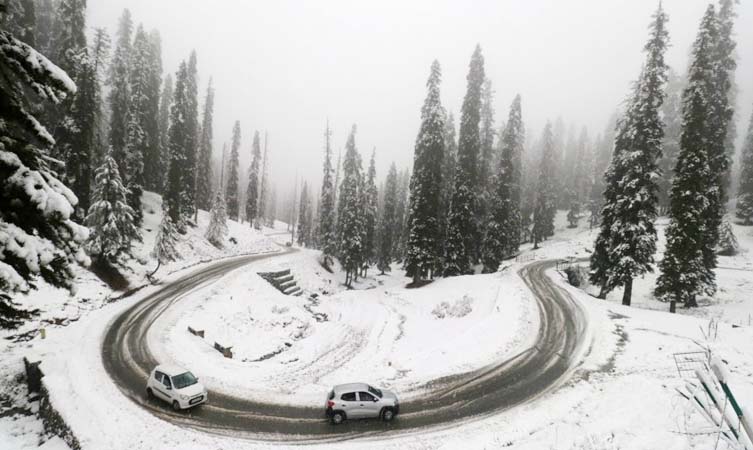 Tangmarg is a small town in the Baramulla district of Kashmir, almost 13km from Gulmarg. Known as the gateway to Gulmarg, the prime attractions in this tiny hamlet include Baba Reshi Shrine, Ningle Nallah, Baderkoot, Gogaldara, among others.
Tangmarg is a major stop for all buses travelling from Srinagar to Gulmarg
10. Ziarat of Baba Reshi, Gulmarg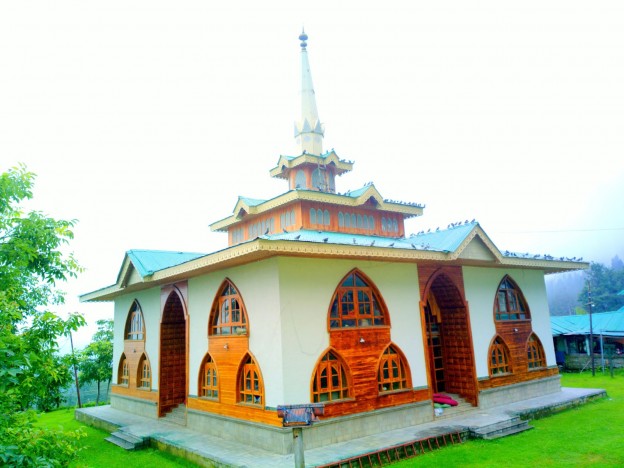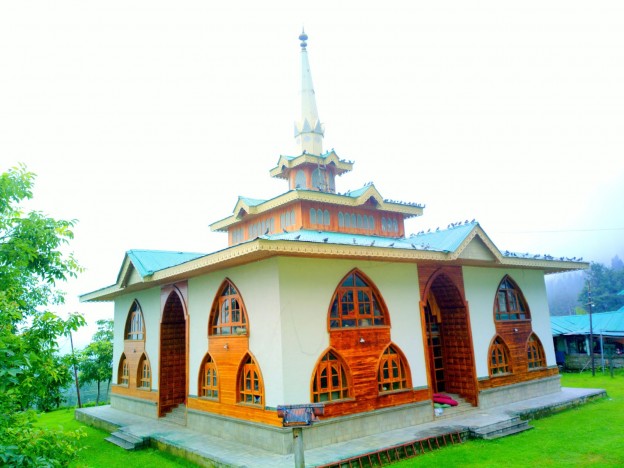 Ziarat of Baba Reshi is a Muslim shrine built in the 13th century on the slopes below Gulmarg. The Ziarat or the tomb is of a well-known Muslim saint, Baba Payam-Uddin who died here in 1480.
He was a courtier to the Kashmir King Zain-ul-Abidin before taking the path of renouncing the worldly ties. With thousands of devotees visiting this shrine every year, regardless of the religion they follow, this shrine buzzes with activities and prayers.
Kashmir Tour Packages