Kashmiri Rogan Josh is a delicious flavourful Lamb curry that comes from Persian origin. It is the signature dish of Kashmir, where the name is derived from Persian words in which Rogan meals oil and Josh mean Intense heat. Kashmiri Rogan Josh is an integral part of the lavish spread Wazwan. No celebrations are complete without this signature dish, typically made with lamb but now days even mutton is used to make this authentic and aromatic Rogan Josh. Among few exotic ingredients used in the recipe, Alkanet root, better known as Ratan Jot is the most important one. It is traditionally used to add colour to Indian food.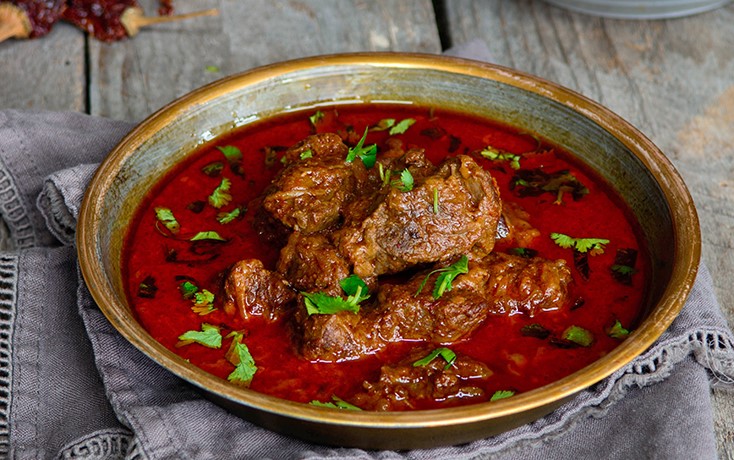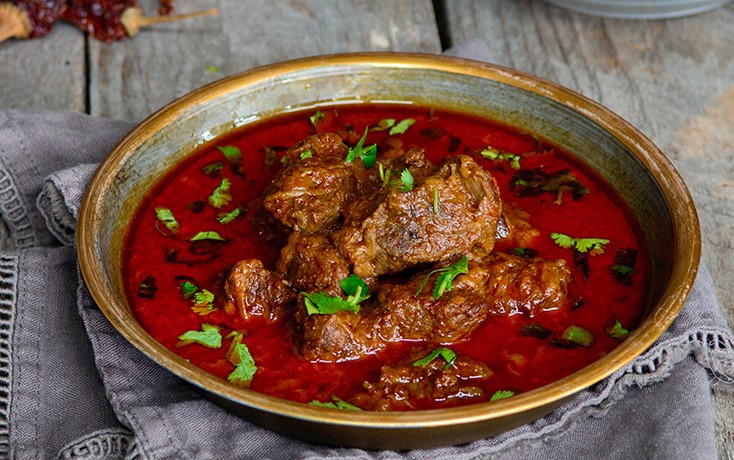 Ingredients of Kashmiri Rogan Josh
1 Kg lamb – knuckles, boneless and ribs
20 gms turmeric
75 gms ginger garlic paste
10 gms cardamom
5 gms bay leaf
200 gms Kashmiri red chilli paste
250 gms pran
75 gms fennel seeds
25 gm dry ginger powder
40 gm green cardamom powder
100 gm yoghurt
100 gm ghee
Colour from Mawal flower
How to Make Kashmiri Rogan Josh
Clean praan, slice and fry them.
When cold, grind them to a fine paste.
Whip the yoghurt. Boil the lamb along with the turmeric, ginger garlic paste, cardamom and bayleaf.
Separate cooked lamb from stock.
Soak the Mawal flowers in water for colour.
Heat ghee and add the onion paste and saute for 3 minutes.
Add the stock along with all the other ingredients except the meat.
On a high flame boil for 20 minutes to get a creamy gravy. Add the meat and the extract of Mawal flowers. Cook for another 5 minutes and serve hot.
Recipe Notes: Mawal flowers are used to give a fiery hot taste to your gravy. It is also known as cockscomb flower. Kashmiri pandits also use 'ratanjog' for flavor and colour. Praan is a type of local onion that has a garlicky flavour.