If you have to visit Kashmir, there is no better time to visit than now. Starting from December until February, and even after that, you will find Kashmir in its ultimate beauty.
Kashmir is a breathtaking location, and India is fortunate to have it. Nothing in the world appears more beautiful than Kashmir, where locations like Gulmarg, Sonmarg, Pahalgam, and Srinagar are all cast in the snow. In Kashmir, the entire valleys are covered in snow in December.
Kashmir in the winter, particularly around December, is just too hard. But it is entirely worthwhile to travel there. Kashmir is the finest place to travel to during the winter because of its tropic climate, which also makes it a place of pleasure, joy, and enjoyment. Kashmir experiences particularly good winter weather from December to February, when the skies are often darker and the bone-chilling cold may leave anyone feeling numb.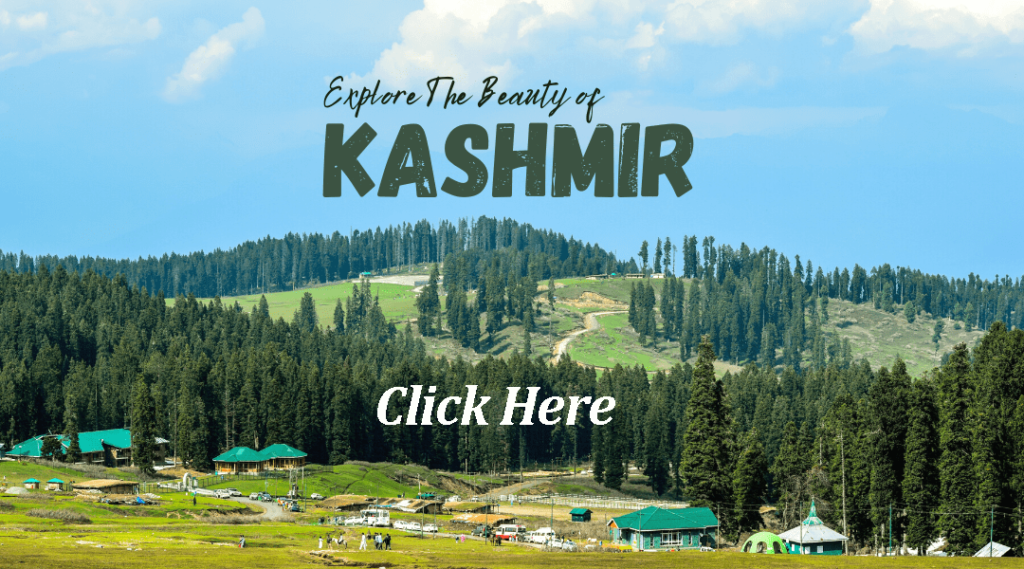 Places to visit in Kashmir During Winter
Dal Lake – One of the nicest things to do on a trip to Kashmir in December is to take a Shikara ride on Dal Lake. Nothing is more enticing than organising a wonderful ride there. A Shikara boat trip in Kashmir is generally the experience when you are on a Kashmir vacation. Therefore, anytime you prepare to visit Kashmir, make sure to experience this breathtaking ride on Dal Lake.
Gulmarg – Gulmarg is regarded as one of the nicest and most well-liked destinations in Kashmir to visit in December. It provides you with a wide range of thrilling activities including skiing and cable car rides. In Gulmarg, taking a cable car is a very spectacular experience. While arranging a trip to Kashmir in the winter, you may also try out other well-liked sports like heli-skiing and ice skating in Gulmarg.
Pahalgam – Without the help of ponies, surviving the winters would not have been as simple. You may also go rafting and pony riding in Pahalgam. A horse or pony ride is necessary to see Kashmir's glaciers at their best in December and to experience the region's spellbinding weather.
Sonamarg – Sonmarg, in Kashmir, is a blessed location that transforms into a sea of white and is renowned for its golden splendour. The most stunning and well-liked tourist destinations are Thajiwas Glacier and Zero Point, respectively. The country of golden meadows, which is stunning in the gloomy winter, is there for you to take in.
Doodhpathri – Doodhpathri, which can be found in the Budgam district, is yet another recently created gorgeous location of the Paradise Kashmir. The area, which means "valley of milk" in literal terms, is a lovely resort with meadows that resemble carpets. It is 42 kilometres away from Srinagar. The term "Doodhpathri" comes from the region's abundance in milk production. Additionally, it's thought that the reason this region is called DoodhPathri is because the cows that graze there produce a lot of milk.
Yusmarg – For its breathtaking natural beauty, Yusmarg, also known as the "Meadow of Jesus," is a lovely location that tourists must visit. The primary draw of this Kashmiri location is its verdant meadows, foamy river, Dudhganga, adventurous trekking trails, and trout fishing opportunities.
Kashmir weather in December 2023
Snowfall with wind chills of 10°C and daytime temperatures of 21°C are usual of the December weather in Kashmir. The weather in Kashmir in December can be foggy in the mornings and drop to 1°C at night, but it is generally warm there in the afternoons. Kashmir experiences monthly average temperatures between 7-8°C.
Snowfall in Kashmir in December
Top tourist destinations like Gulmarg, Sonamarg, Pahalgam, and Srinagar are completely covered with snow in December, Kashmir takes on an extra unique quality.
Kashmir trip in December
Holidays Hunt Travel, one of the best tour and travel agency in Jammu and Kashmir, provides a Kashmir trip in December. For a customised Kashmir tour in December, contact us. Please call or whatsapp +91-94199-15255 or visit our website holidayshunt.com
Also Read Month-wise Kashmir Tours
Frequently Asked Questions
Is it safe for tourists to visit Kashmir in December?
Yes, visiting Kashmir in December is quite safe for visitors. You can travel to places like Pahalgam, Gulmarg, and Srinagar. In the winter, these areas take on a new appearance. Even if there are some areas of Kashmir that you won't be able to visit because of the intense snowfall in these areas, there are still plenty of other sites to see in Kashmir in December. Consequently, you don't need to be concerned about your safety when visiting Kashmir in December.
What clothes should I bring to Kashmir in December?
Carrying warm clothing including hats, coats, pullovers, warmers, and other accessories is advised because Kashmir has significant snowfall and chilly weather in December. In case of an emergency, you should also pack a waterproof bag, water-resistant boots for the snow, and water-resistant coats to ensure the safety of your valuables, including cash and other travel essentials like devices and gadgets. A shawl, which may keep you warm and shield you from the wind and snow on your trip to Kashmir, is another essential item you should pack.
In Kashmir, what is the temperature in December?
In Kashmir, December temperatures typically range from 7°C to 8°C. And snow has completely buried the valleys. Additionally, Srinagar experiences exceptionally chilly temperatures in December, ranging from 3 to 4 degrees Celsius. Typically, Kashmir experiences a gloomy and chilly December. Even though it's hot outside, it's entirely safe for you to visit Kashmir in December. So there is no need to worry about the weather in Kashmir in December.
Is Kashmir open in December?
Yes. All the places in Kashmir are open in December.
Can we see snow in Gulmarg in December?
Yes. It snows in December in Gulmarg.
Is there snow in Kashmir in December?
Yes, it is the start of snowfall in Kashmir.