Commence your romantic journey with the exclusive Kashmir Honeymoon Tour Package by Holidays Hunt. Envision your dream honeymoon against the backdrop of serene lakes, lush gardens, and snow-capped peaks in the breathtaking valley of Kashmir, often referred to as the "Switzerland of India." We are here to turn your dream honeymoon into a memorable reality, tailored exclusively for newlyweds.
Why Choose Kashmir for Your Honeymoon
Choosing Kashmir as your dream honeymoon destination is an exceptional decision, especially with our Kashmir Honeymoon Tour Package. Each season in this picturesque region casts a unique spell, ensuring an unforgettable experience. From its pristine landscapes and serene lakes to vibrant gardens and the world-famous Dal Lake, Kashmir offers an ideal setting for love to flourish. Whether you prefer the enchanting snowfall of winter or the vibrant blossoms of spring, Kashmir's year-round appeal ensures an unforgettable romantic escape. Moreover, our package offers unique opportunities to immerse yourself in the region's rich cultural heritage, explore local markets, savor delectable cuisine, and engage with the warm and welcoming locals.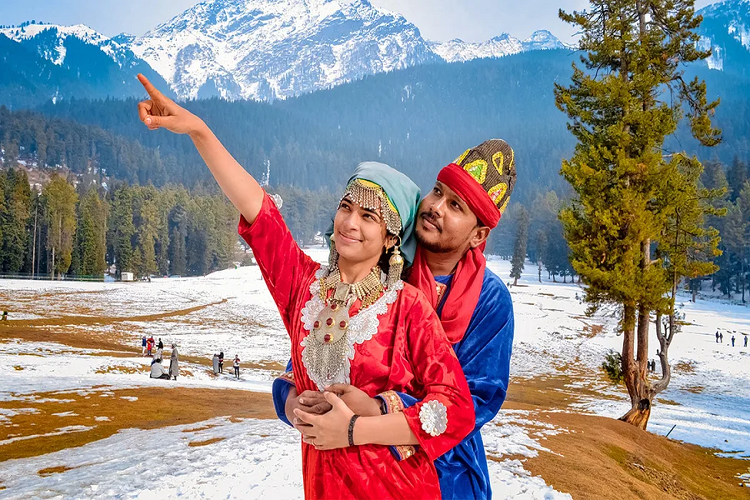 Best Time to Visit Kashmir Month-Wise
Plan your romantic escape with precision by considering the best time to visit Kashmir, as outlined month-wise in our Kashmir Honeymoon Tour Package. We ensure that you have the best experiences no matter when you choose to embark on your romantic journey.
April to June: Spring and early summer, as highlighted in our Kashmir Honeymoon Tour Package, provide a perfect canvas for love to bloom with pleasant weather, vibrant gardens, and a serene Dal Lake.
July to September: Late summer to early autumn offers blooming flowers and clear skies, creating the ideal backdrop for unforgettable moments.
October to November: Autumn, as featured in our Kashmir Honeymoon Tour Package, paints the landscape in golden hues, providing a stunning backdrop for your romantic getaway.
December to February: Winter transforms Kashmir into a snowy wonderland, inviting you to cozy up by the fireplace and create memories amid a pristine landscape.
Accommodation Options – Kashmir Honeymoon Tour Package
When it comes to accommodation, our Kashmir Honeymoon Tour Package ensures that you have access to the best options, all chosen with your comfort and romance in mind.
Srinagar: Experience the romance of staying in traditional houseboats on Dal Lake, or choose from charming boutique hotels and luxurious resorts, all designed to cater to your every whim.
Gulmarg: Enjoy luxurious resorts that offer stunning views of the meadows and the world-famous Gulmarg Gondola, creating a romantic haven for newlyweds.
Pahalgam: The cozy cottages and boutique hotels, as featured in our Kashmir Honeymoon Tour Package, provide the perfect escape amid lush greenery.
Sonamarg: Opt for comfortable hotels surrounded by pristine meadows and tranquility, offering a serene setting for your romantic journey.
What to Do on your Kashmir Honeymoon Tour Package
With our Kashmir Honeymoon Tour Package, every moment of your honeymoon is an opportunity to create unforgettable memories.
Srinagar: Begin your romantic journey in the city of Srinagar, where our package ensures that you stay on a traditional houseboat on Dal Lake. Explore the historic Mughal Gardens, take a serene shikara ride on Dal Lake, and capture moments that will last a lifetime.
Gulmarg: Our package takes you to the meadows of Gulmarg, where you can experience the Gulmarg Gondola, one of the world's highest cable cars. The meadows offer opportunities for skiing and horse riding, ideal for couples seeking adventure.
Pahalgam: Enjoy our package's visit to the picturesque landscapes of Pahalgam, making it an ideal location for a leisurely stay. Explore the stunning Betaab Valley and go for a romantic pony ride with your beloved.
Sonamarg: This "Meadow of Gold," as featured in our Kashmir Honeymoon Tour Package, presents awe-inspiring natural beauty. Take a romantic stroll by the Sindh River, enjoy some fishing, and embrace the tranquility of this hidden gem.
Cultural Experiences: Throughout your journey, immerse yourself in the rich Kashmiri culture. Explore local markets, savor delicious Wazwan cuisine, and interact with the warm and welcoming Kashmiri people. Your honeymoon isn't just about the destination; it's about the experiences that enrich your journey.
How to Reach Kashmir
Reaching Kashmir is a seamless process, with multiple options at your disposal.
By Air: The nearest airport is Srinagar International Airport, well-connected with regular flights.
By Road: Hire a taxi or use a ridesharing service for a picturesque drive through scenic routes.
By Houseboat: Stay directly on Dal Lake to fully immerse yourself in the experience, making your arrival a unique part of your honeymoon.
How to Book Your Kashmir Honeymoon Tour Package with Holidays Hunt
Booking your dream honeymoon in Kashmir with Holidays Hunt is a straightforward process. Our experienced team is ready to assist you with every detail, ensuring a seamless and memorable trip. Contact us through our website or reach out to our dedicated team at +91 9419915255 to embark on your journey into marital bliss.
Kashmir, with its natural beauty and cultural richness, offers an unparalleled setting for a romantic honeymoon. Our exclusive Kashmir Honeymoon Tour Package is designed to make your experience unforgettable, ensuring that you create memories that will last a lifetime. Make your honeymoon a fairy-tale experience in the "Paradise on Earth" with Holidays Hunt. Embrace the magic of Kashmir with your beloved and create cherished memories of a lifetime. From serene houseboats on Dal Lake to pristine meadows in Gulmarg and the cultural experiences throughout, Kashmir is the perfect destination for newlyweds. Make your journey into marital bliss an unforgettable one with Holidays Hunt.