Suchetgarh border post or BOP Octroi has been developed as a tourism spot by the state tourism department. The Suchetgarh Border post is 28 kms from main Jammu. The road to Nai Basti-Gulabgarh from Jammu follows the train route as it existed prior to 1947 and a number of old buildings can be seen on the way. Suchetgarh Post served as the route to Sialkot during the pre-partition era, which is just 11 kms from the post and earlier there was an Octroi post at this point. On the other side of the border post lies a spectacular Banyan Tree, which is as old as 100 years. In close vicinity are the "Gharana and Abdullian wet lands where migratory birds of a number of varieties flock during winter season.
The process for converting the place into border tourism was started few years back. Retreat Ceremony on the lines of Wagah Border in Suchetgarh, located on the zero line of Indo-Pak border, is going to start most likely from October 2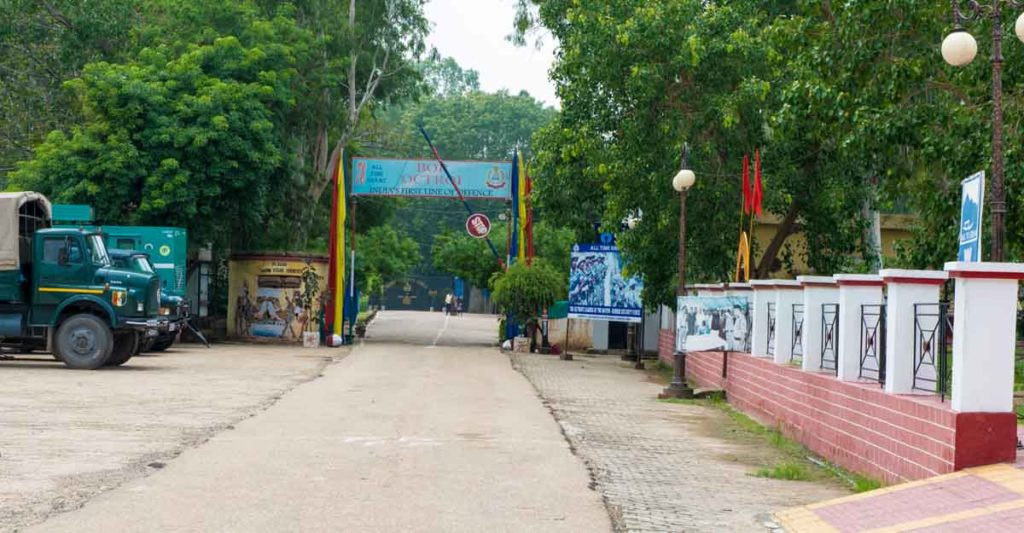 Unique banyan tree demarcates India-Pakistan border in Jammu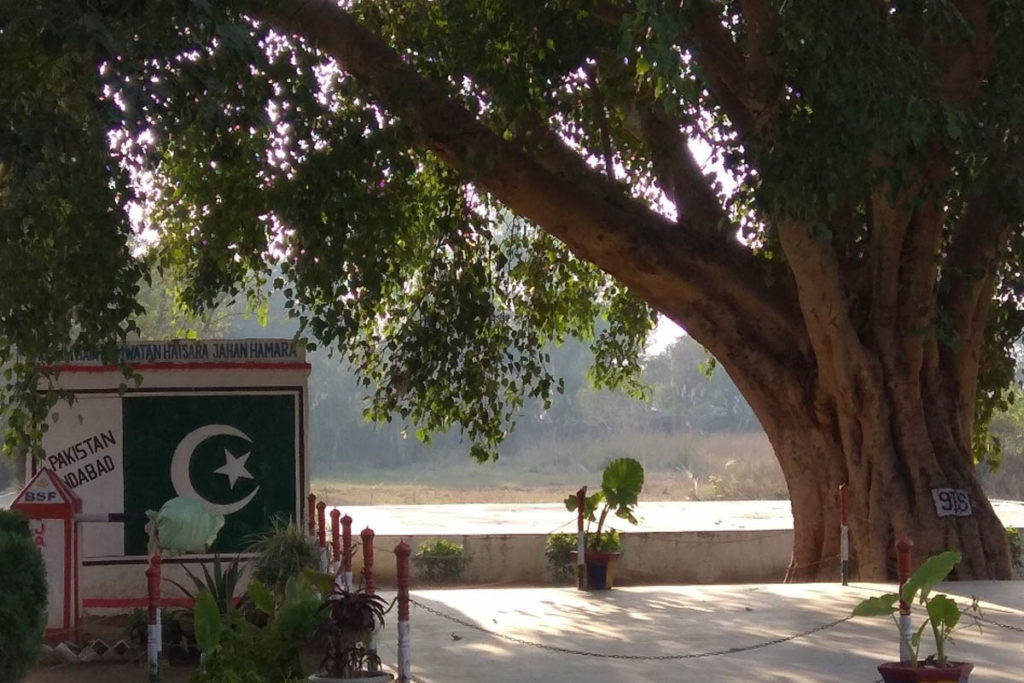 The unique banyan tree that demarcates the boundary of India and Pakistan on the International Border (IB) at Suchetgarh in the Jammu district has become the most photographed landmark amidst efforts of the J&K government to make the place a tourist hotspot.
This is perhaps the only point where a tree and not any traditional concrete pillar demarcates boundary of the two countries.
The tree was not the dividing line few years ago as a concrete pyramid shaped pillar number 918 stood there. However, the concrete pillar vanished within the broadening trunk of the tree with passage of time. However, the Indian BSF and Pakistani Rangers guarding their respective borders did not cut the tree and finally painted the 918 marking on the tree. The next pillar 919 is made of concrete but the pillar tree has become an attraction for visitors who come from different parts of the country.
Suchetgarh Border Ceremony
With retreat ceremonies being held by the Border Security Force (BSF) close to the zero line on the weekends, the Octroi Border Out Post on the International Border in Suchetgarh of RS Pura in Jammu district has become a well-known tourist site.
"Beating retreat ceremony" held every weekend at the international border's Suchetgarh Border Outpost (IB) On weekends, a 30-minute ceremony is held along the international border at Suchetgarh Octroi BoP starting at 5:15 pm.
Suchetgarh Retreat ceremony timing is 5.15 pm twice a week ie Saturday and Sunday
Visitors are allowed to take photos, but no videos allowed. In addition drones are also not allowed in entire J&K.