Wazwan is a multi-course feast that is a hallmark of Kashmiri cuisine and a source of great pride for the people of Kashmir. With a few vegetarian options, almost all of the recipes are meat-based and include lamb or chicken. It is well-liked all over Kashmir. Wazwan is additionally served at Kashmiri reunions and cuisine festivals abroad.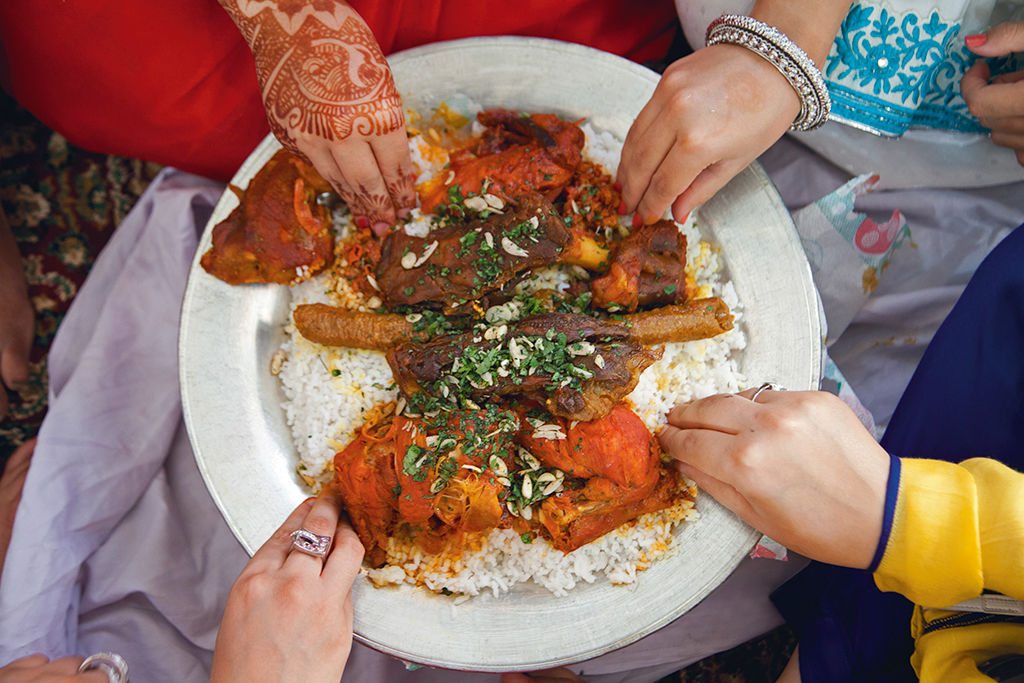 Waz and wan are words that translate to "shop" and "cook" respectively in Kashmiri. The royal wazwan is Kashmir's supremely formal dinner. Between fifteen and thirty of its thirty-six dishes may be meat preparations, which are overnight-cooked under the guidance of a master chef known as a vaste waze. The dinner is served to guests from a huge copper dish known as the traem while they are sitting in groups of four.
The beginning of the meal is marked with the invocation of Allah for Kashmiri Muslims and Lord Shiva for Kashmiri Hindus, as well as ritual handwashing in a vessel known as the Tash-t-naer that is carried around by attendants.
Then the traem arrive, heaped with rice, quartered by two seekh kababs and contains four pieces of methi korma (chicken or mutton flavored with a spice mixture containing dried fenugreek (methi) leaves), two tabak maaz (twice-cooked lamb ribs, initially braised with ground spices and milk, then browned in butter), one safed kokur (chicken with white sauce), one zafran kokur(chicken with saffron sauce), and the first few courses.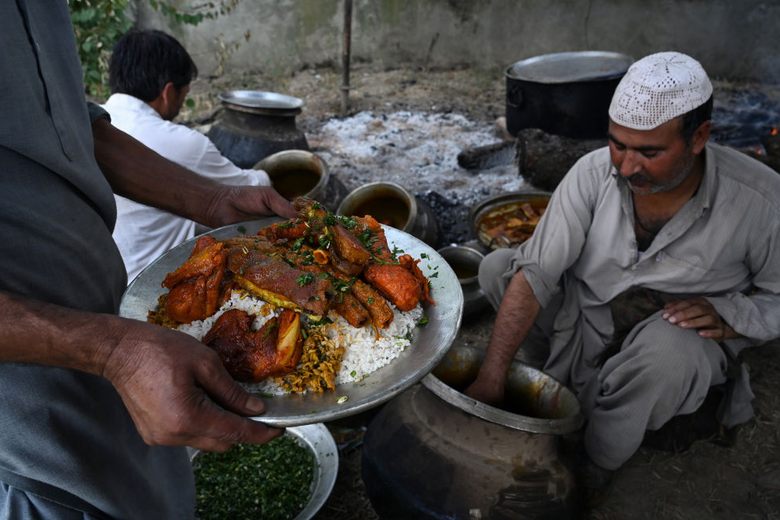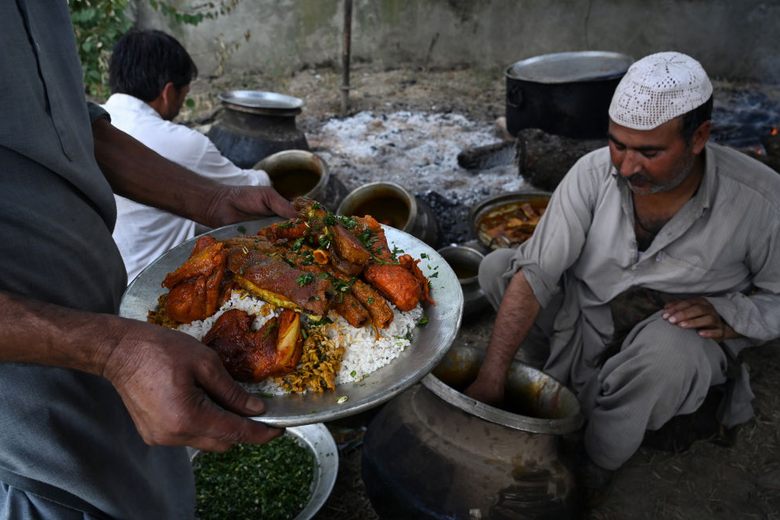 Yogurt and chutney are served separately in small earthen pots. Up to about 20 items are served thereafter by waza (the junior cook). Seven dishes are a must for these occasions — tabakh maaz, rista (meatballs in a red, paprika-saffron-fennel spice gravy colored with dyer's alkanet), rogan josh, daniwal korma (lamb roasted with yoghurt, spices and onion puree, topped with coriander leaves), aab gosh (lamb chunks cooked with a fennel-based spice mixture, cardamom and partially evaporated milk), marchhwangan korma (chicken legs/thighs cooked in a spicy browned-onion sauce) and gushtaba (meatballs cooked in a spicy yoghurt gravy).The main course usually ends with gushtaba.
The Gushtaba is a large meatball which signals the end of the main course. After that, desserts are served. In winters, the dessert can be a hot sweet dish and in summers, it is usually something cold.
List of Kashmiri Wazwan Dishes
Methi Maaz
Rogan Josh
Sabz Haakh
Daniwal Korma
Goshtaba
Marchwagun Korma
Doon Chetin
Safed Kokur
Kashmiri Pulao
Tabakh Maaz
Aab Gosht
Yakhni
Methi Maaz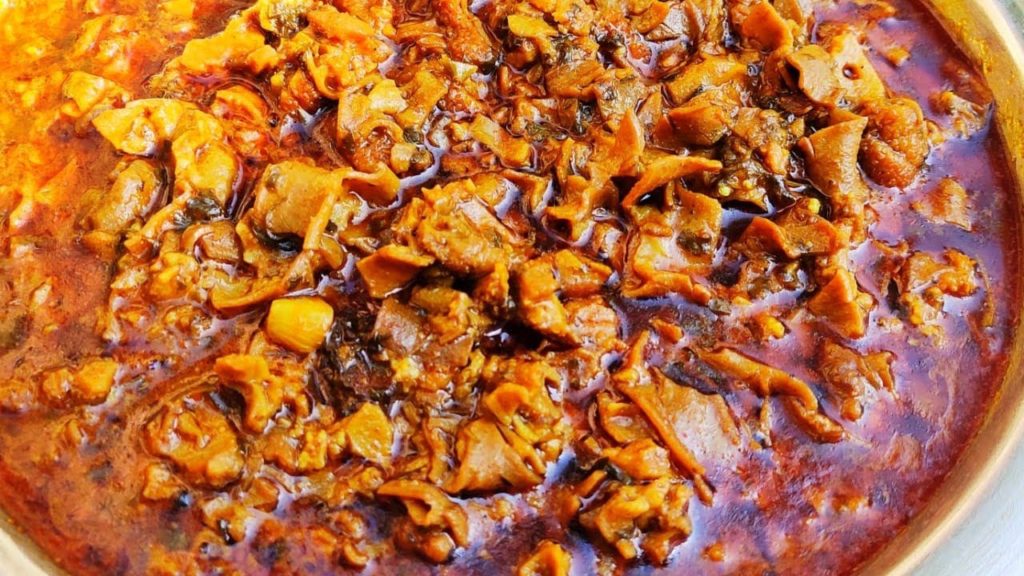 Methi Maaz – Minced sheep Tripe Curry flavoured with Methi (fenugreek leaves, the first dish set in Tream).
Rogan Josh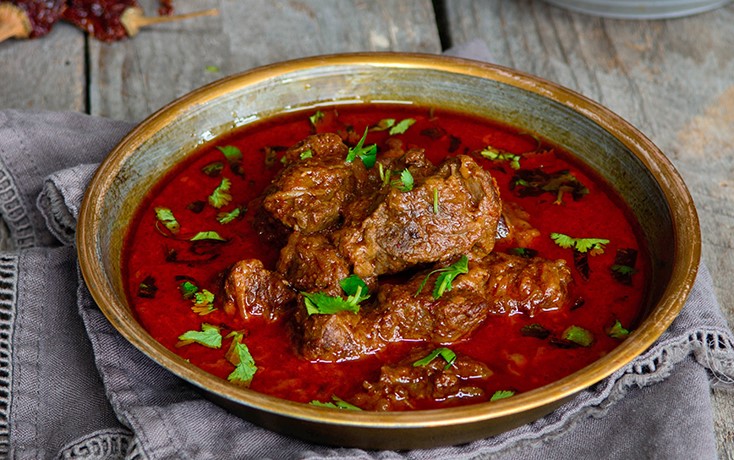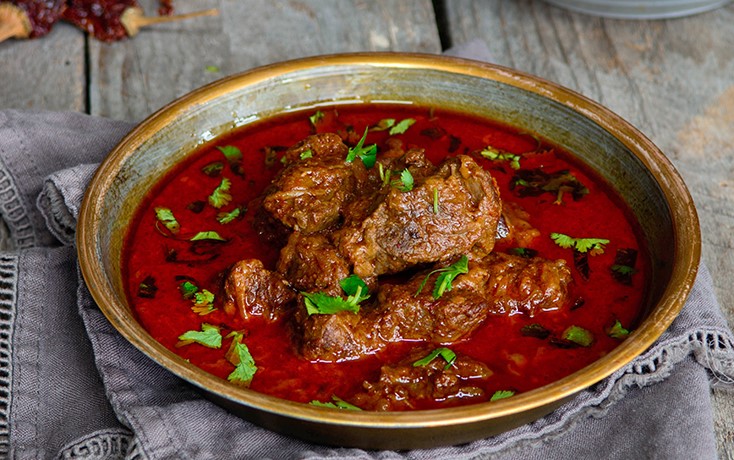 Rogan Josh – Shoulder meat cooked in Praan paste, mawal flower essence, curd, and Kashmiri mirchi diluted essence. Rogan means fat and Josh means to cook on high heat.
Sabz Haakh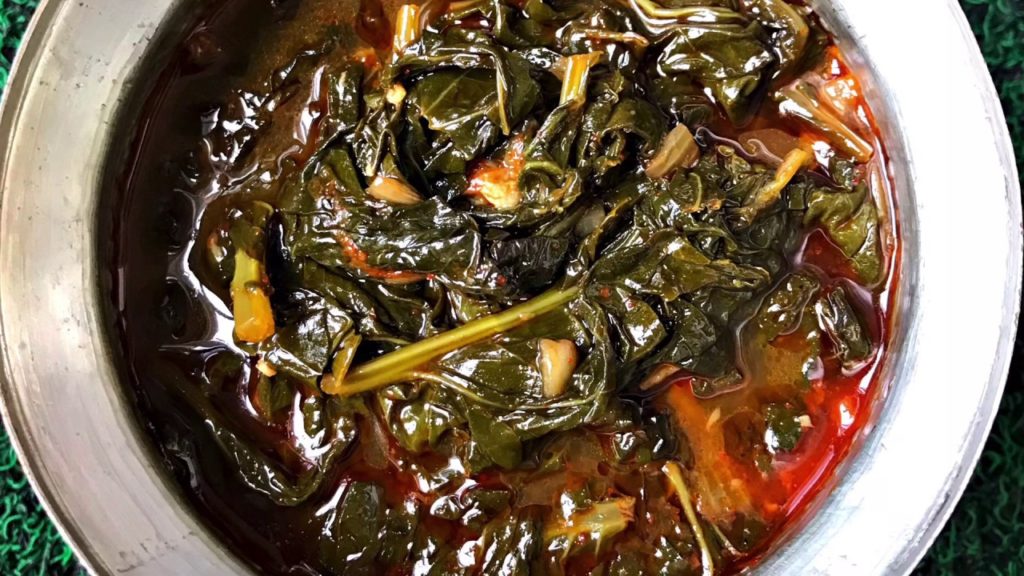 Sabz Haakh – Spinach-like leafy greens cooked in mustard oil with chilly, without which Wazwan is incomplete.
Daniwal Korma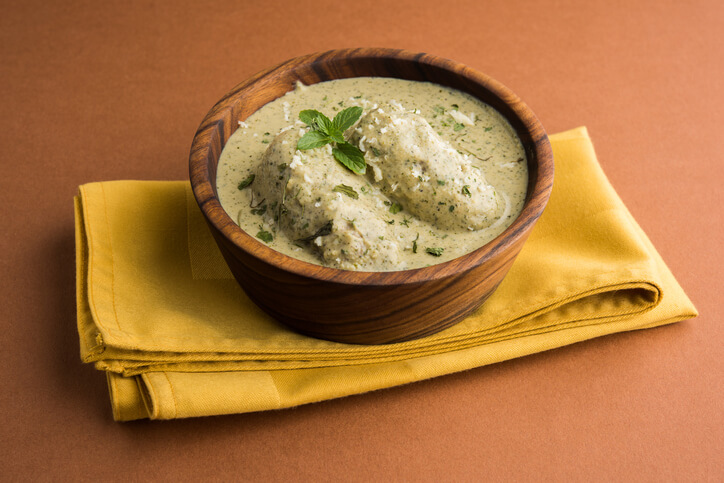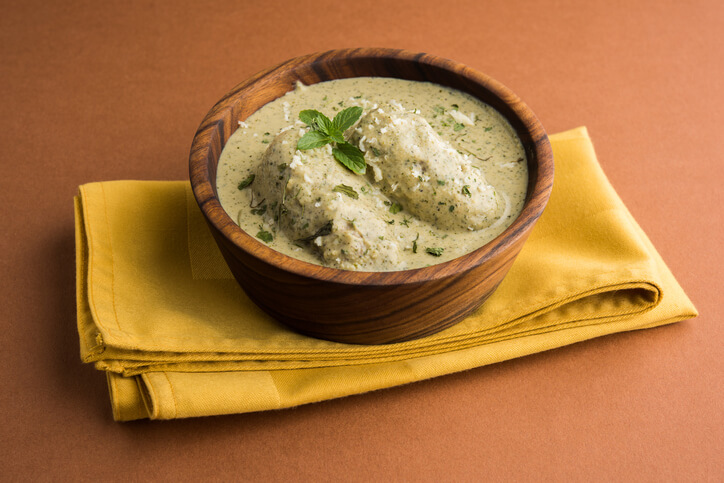 Daniwal Korma – Mutton Korma cooked in coriander and Ghee with yogurt-based gravy.
Goshtaba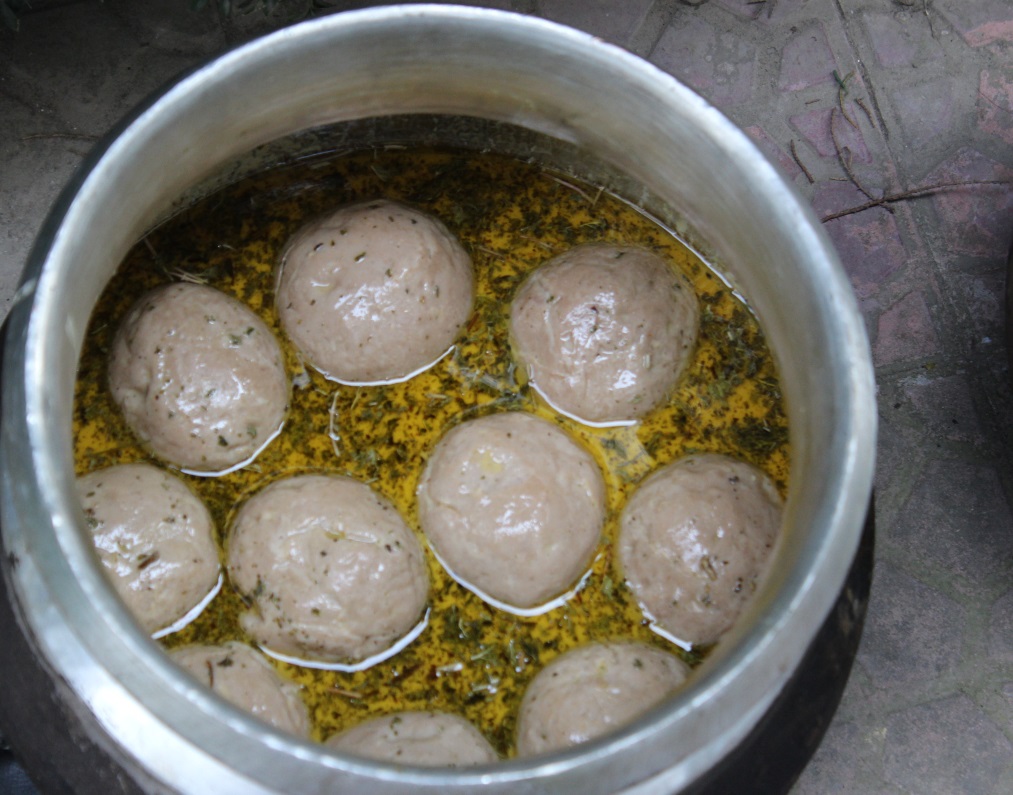 Goshtaba – Meatballs with cheesecake-like texture minced with fat and dipped in mutton broth, with gravy based on curd, cardamom, dry ginger, and fennel.
Marchwangan Korma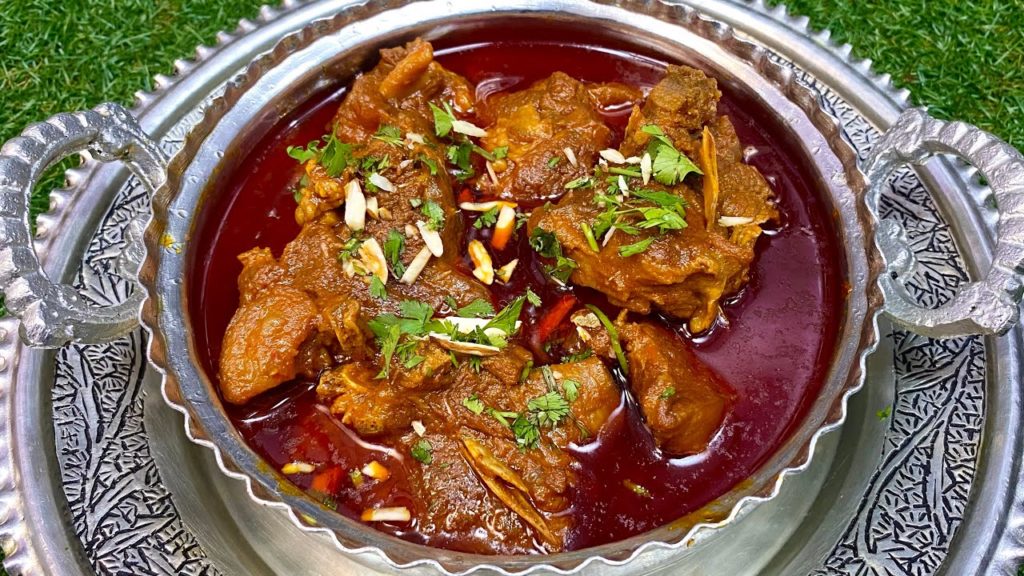 Marchwangan Korma – Fiery hot Kashmiri chilly korma; three-quarters of the chilly used in the entire wazwan is singularly used in this dish!
Doon Chetin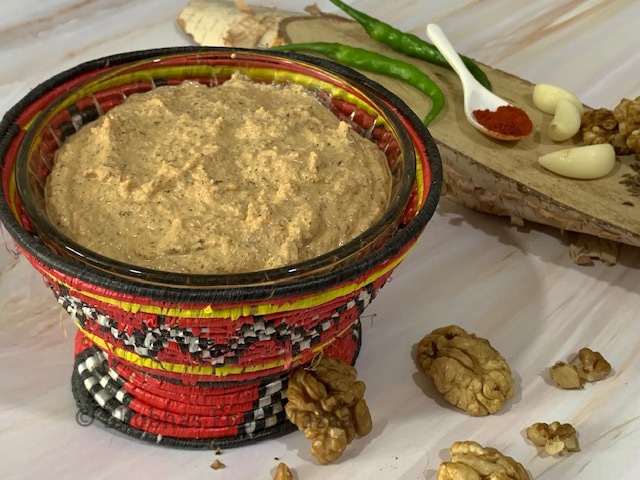 Doon Chetin – Walnut chutney flavored with yogurt and Kashmiri chilies – a Kashmiri staple that will take your breath away, literally!
Safed Kokur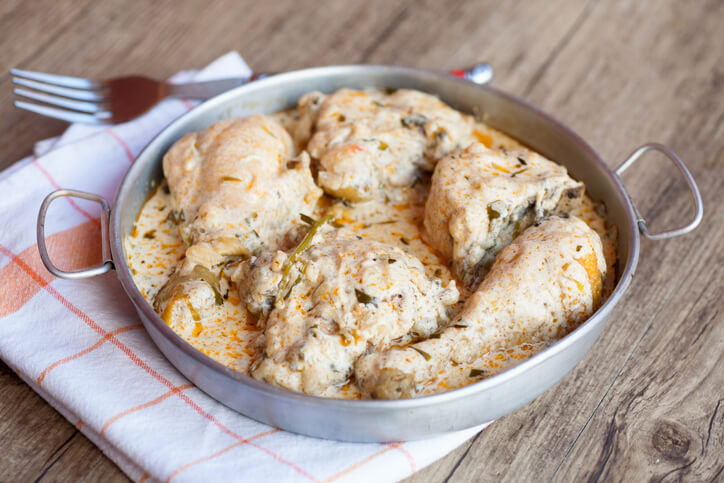 This tasty chicken-based specialty is made by splitting a full-chicken into two halves. The chickens are then cooked with ground cashew nut and poppy seed paste to give it a whitish look, and then garnished with coriander leaves.
Kashmiri Pulao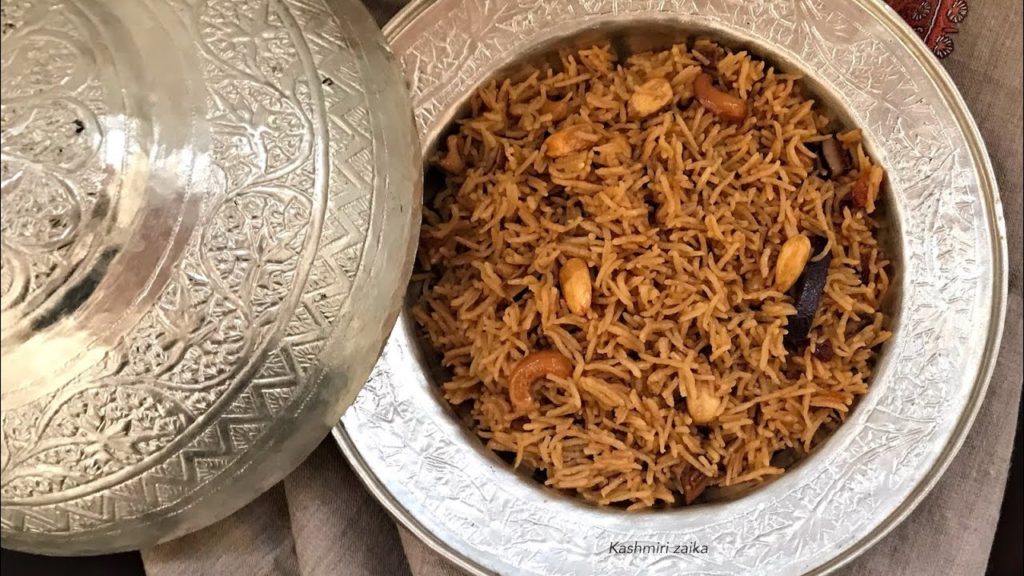 Kashmiri Pulao – Basmati chawal cooked in milk and ghee with saffron and dry fruits and kishmish separately roasted in ghee.
Tabakh Maaz
Tabakh Maaz – Glossy ribs cooked in ghee then simmered in yogurt till dry.
Aab Gosht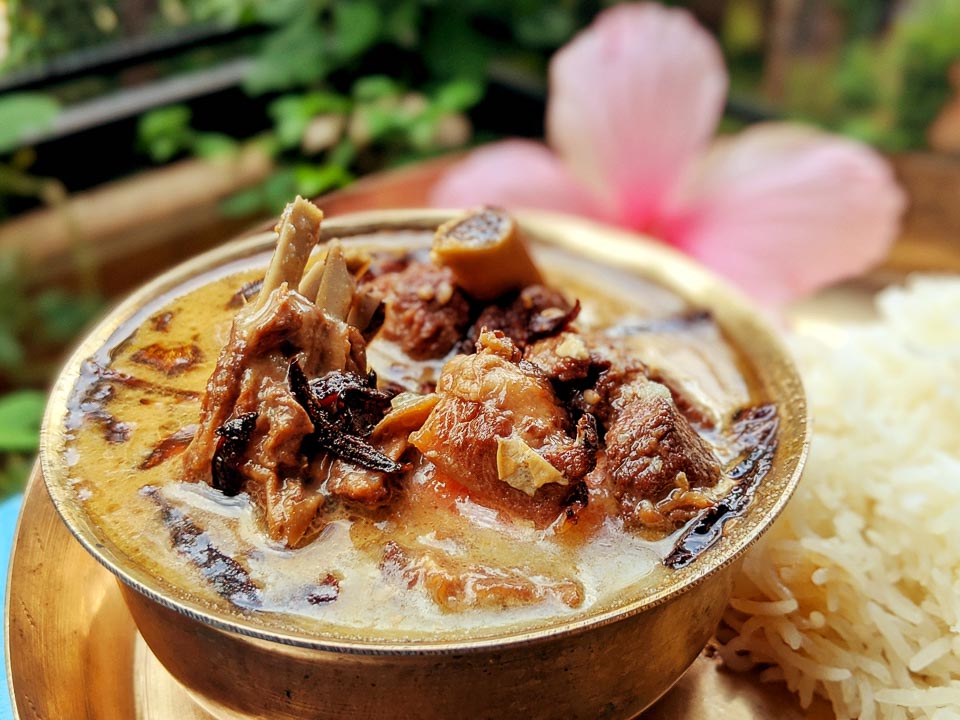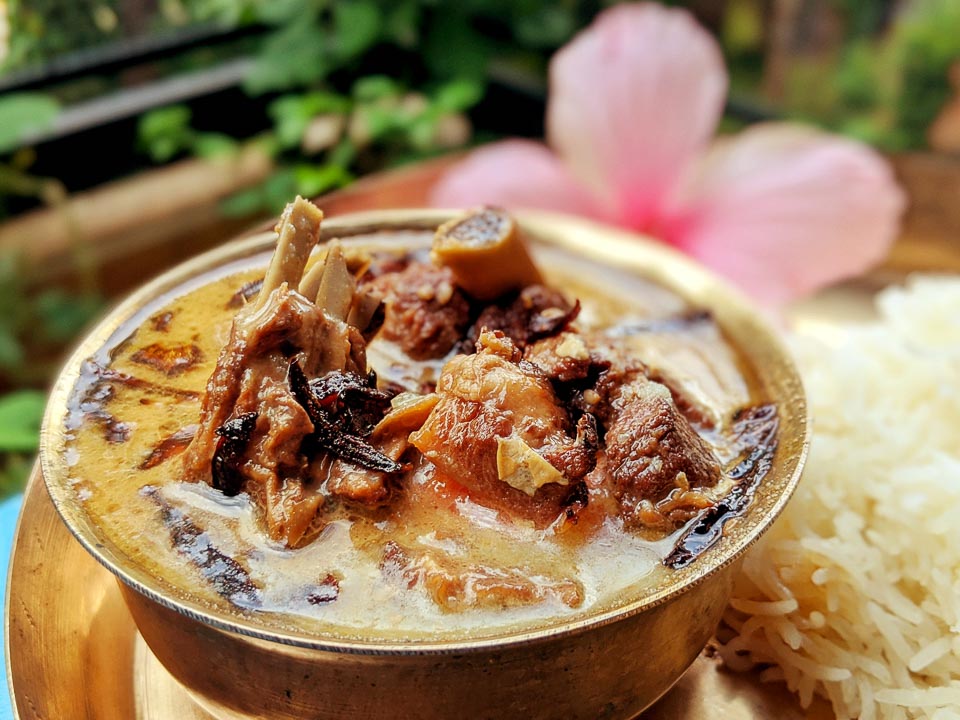 Aab Gosht – Mildly flavoured sheep ribs cooked in milk gravy with cardamoms and saffron.
Yakhni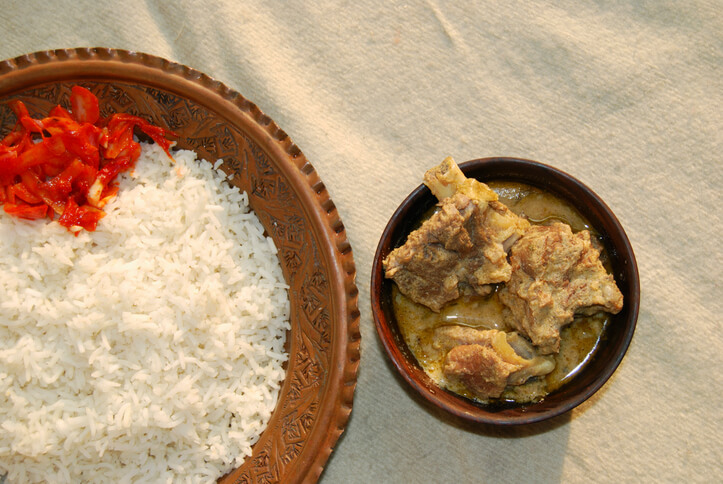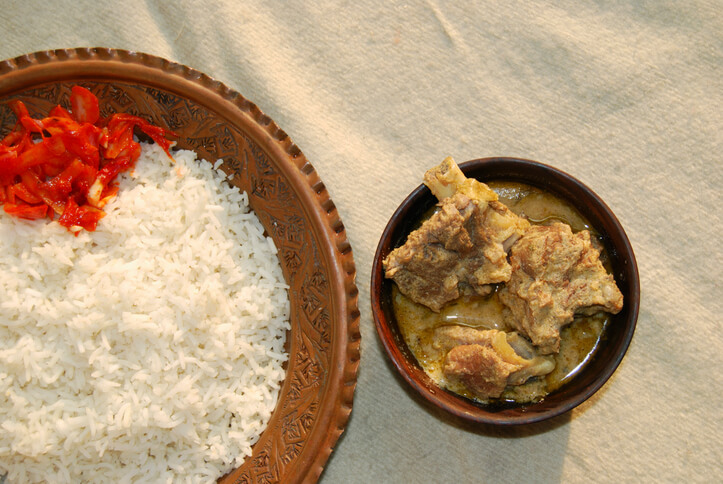 This Kashmiri dish is a yogurt-based curry made mostly with chopped lotus stems. There is abundance of curd in the curry and the flavor is further enhanced with spices such as fennel seeds and cardamom. Lotus stems is also sometimes replaced with mutton meat.
Holidays Hunt Travel provides Kashmir Tour Packages Call / Whatsapp on 9419915255 or visit our website HolidaysHunt.com